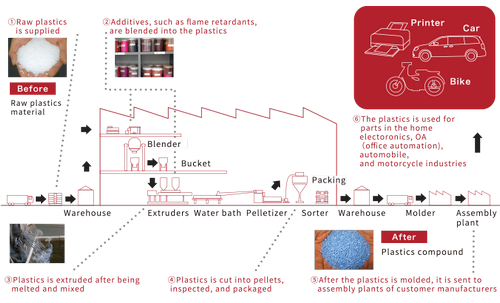 For A Bright and Prosperous Tomorrow in SIK

To meet the needs of high-tech society.
SIK rationalised its production operations by introducing a semi-automated production system.
SIK factory is equipped with sophisticated twin screw extrusion machinces to
produce the the best quality and high performance colored plastic compounds.
With the support of a pool of dedicated and well-trained staff member,
We are able to bring out consistency in quality and services.
Quality Assurance
Quality Assurance is our corporated emphasis.
Our Technical Department ensures the quality of every production to
attain the highest and best quality in our products. In its modern laboratory,
SIK have various testing equipment for analysis, testing and development purposes.
Our responsible Quality Assurance team also provide colour matching services that have won
our customer 's satisfaction and confidence.

Good Customer Relations
is our keyword. We have situated our warehouse close to the manufacturing area to provice
Just - In - Time delivery to our customers.Furthermore, our Marketing Department 's
motto is quick response to all our customer 's enquiries and demands